---
Road Trip on Route 66
JHJJDriving America
Driving America's most iconic highway is the trip of a lifetime. Author and Route 66 expert Candacy Taylor shares her tips on the classic motels, old-school diners and gas stations to stop at en route for a true slice of American,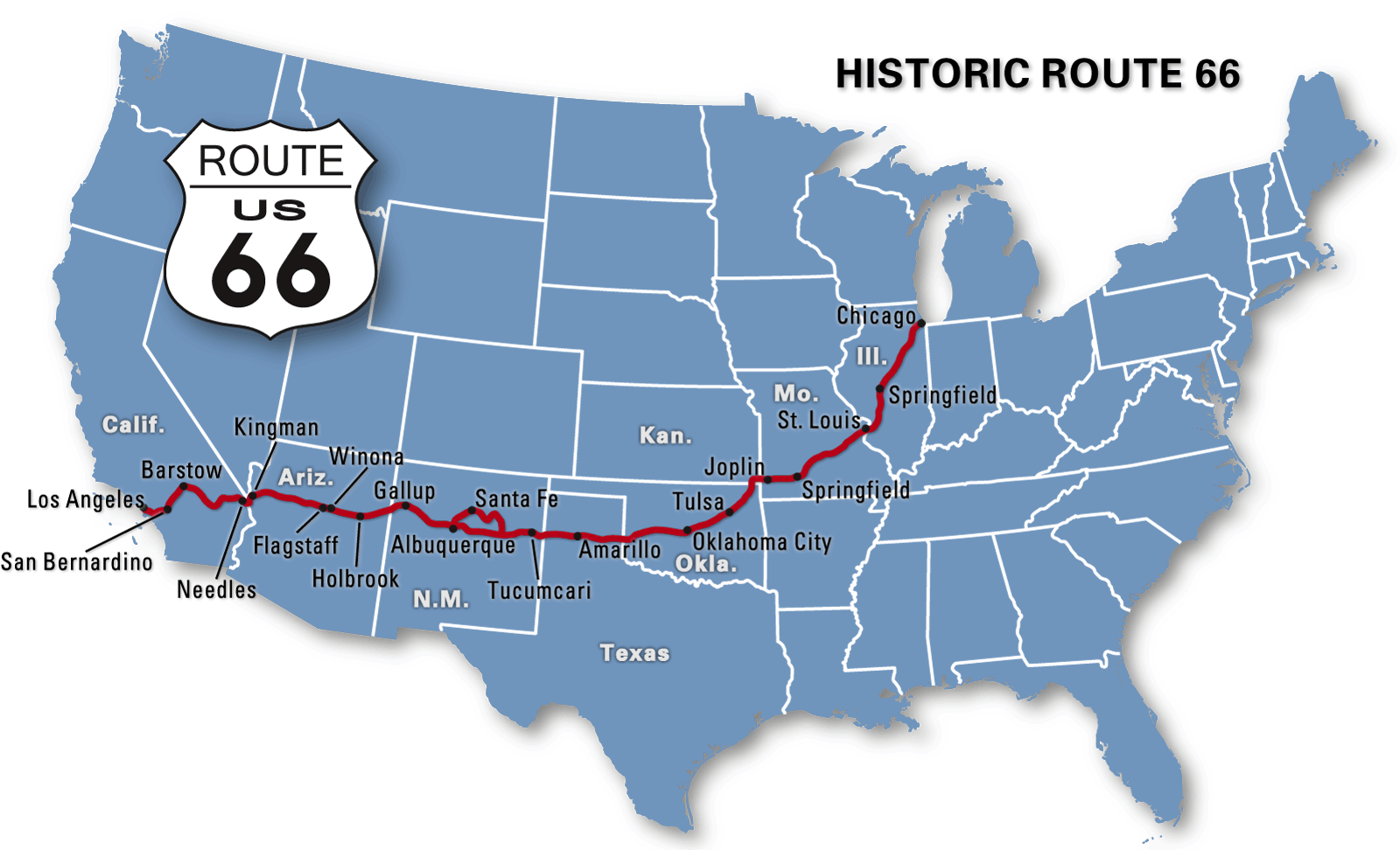 Route 66 is the quintessential American road trip. No other road has captured the imagination and the essence of the American spirit. It has inspired musicians, filmmakers and writers, from classic literature (John Steinbeck's The Grapes of Wrath) to Pixar movie Cars and video game Grand Theft Auto. The highway's soundtrack, (Get Your Kicks on) Route 66, written in 1946 by Bobby Troup and first recorded by Nat King Cole, has been covered by more than 50 musicians, from Aerosmith to the UK Subs.
Route 66 was the first highway of its kind. In 1926, the 2,448-mile road was designed to be the first trans-continental, year-round highway. It connected urban and rural America from Chicago to Los Angeles, crossing eight states and three time zones. Like an artery, the "mother road" nurtured communities and serviced millions of truckers and road trippers for decades. Families who were forced to leave their homes during the Great Depression and the Dust Bowl, with few resources and a little hope, motored west on Route 66 in search of a better life. This "road of dreams", symbolising a pathway to easier times, was one of the only US highways to be laid out diagonally. It cut across the country like a shortcut to freedom.
Route 66 grew in popularity in the 50s, when vacationers loaded up their Airstreams and hit the road to see mom-and-pop trading posts, teepee motels and reptile farms. But Dwight Eisenhower's 1956 Federal Highway Act changed everything. The bigger, newer and faster four-lane interstate system bypassed Route 66 and was the beginning of its demise. Businesses shut, towns suffered from loss of tourism and parts of the route were abandoned altogether. By 1985, Route 66 was decommissioned and officially ceased to exist.
Only 85% of the road has survived, but its spirit lives on. In the past decade, non-profit organisations and the US National Park Service have mobilised efforts and provided grants to protect and preserve what is left. Life is percolating through Route 66 once again, and people come from all over the world to get their "kicks". Car enthusiasts ship their classic Mustangs, Fords and Chevys across oceans to cruise this iconic road and experience a true slice of Americana. The cycle of struggle, triumph, survival and nostalgia is laid out around every bend. Today, road trippers will see vintage motels, old-school diners, restored gas stations and towns that look frozen in time. It's the trip of a lifetime.
---