---
Are You Going On A RoadTrip With Your Dog?
Are You Going On A RoadTrip With Your Dog?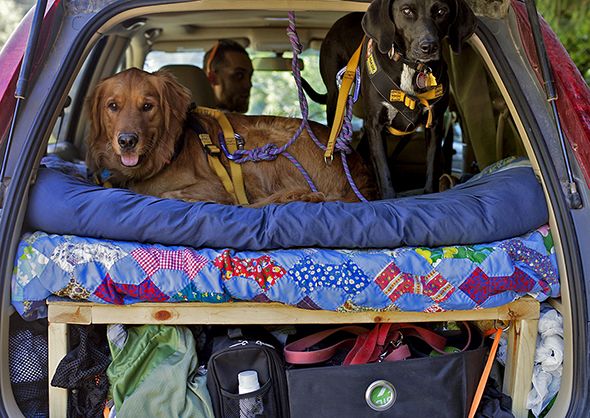 Dog Travel Checklist
I travel with my dogs in the car nearly every day. So goes the life of aservice dog puppy raiser. It's our job to expose our puppies to differentpeople, places, and things including restaurants, movie theaters, shoppingmalls, grocery stores (the market), and pretty much anyplace the general publicgoes.
Travelingin my car with my dog on a day to day basis is much different then a 6-8 hourjourney across multiple (California and Arizona. Does 2 count asmultiple?) states! So what's a dog traveler to do when someone yells:"Road Trip!"
Let'sstart with our dog travel checklist.
BEFOREYOU LEAVE
Pet Friendly Hotel – Ensurepets are welcome at your hotel. We're staying at the Sheraton Grand atWild Horses Pass for a pet blogging conference. Pets will be allowednearly everywhere in the hotel! We're so excited
Microchip – Stetson has amicrochip. You probably won't lose your dog, but just in case you want tohave him microchipped.
Vaccination Records – Stetson went tothe vet a few weeks back to get blood work done as well as his vaccinations. We also picked up copies of his medical records to take on our trip.
Medications/Supplements – Stetsondoesn't take regular medication, but he does take supplements including fishoil and glucosamine. Make sure you get all meds and supplements filledbefore your trip.
ESSENTIALITEMS
Collar – Stetson doesn'twear the same collar Archerwears during training. Instead he has a standardflat collar.
Leash – We're bringing Stetson'sleather training leash we've used with him since his guide dog training days
Tags – Stetson has hispersonal tag with my information, his county tag, and his microchip tag(actually I'm missing his microchip tag).
Poop Bags – we have our poopbag holder permanently attached to our leash, but we will be bringing extrapoop bags on our trip.
Food – Stetson eats Core GrainFree dog food one cup twice a day.
Water – It's going to behot this week. I'm bringing plenty of water for Stetson and for me!
Food Bowl – We'll be bringingone of special slowfeeder dog bowls.
Water Bowl – We're bringingour travel waterbowl.
Seatprotector--You will need to protect your cars with bench seat cover or cargo liner cover
Travel Water Bowl/Bottle – We'llhave Archer's travel water bottle during the trip. Sorry Archer…
Travel Crate – One ofour latest purchases. We could have used our metal crate,but they are a bit on the heavy side so we opted for a cloth travel crateinstead.
Dog Toys – Stetson is notbig on toys, but he will play with them from time to time.
Dog Chews – I'llgrab a couple bully sticks for Stetson which will keep him occupied for hours.
Doggy Backpack – When we're outwith our pups we put some of the most important things in our doggy travel backpacklike water, blankets, paper towels, and other cleanup supplies.
Blankets – For the car, thecrate, and to lay across the hotel sheets.
First Aid Kit – I don't have apet first aid kit!? I'll put together a quick DIY doggy first aid kit forStetson.
Recent Photo – I'm sure we allhave a millions pics of our dogs on our phones, but just in case snap a quickshot of your dog because there's always a chance he'll get lost.
Training Harness
Travel Bed
CLEANINGSUPPLIES
Paper Towels – Standard sheetsin case there are any accidents or messes.
Baby Wipes – Great forquick and easy cleanups.
Nature's Miracle – He's beenpotty trained since his puppy days, but you never know. Newplace, new schedule, new everything. An accident could be waiting tohappen. Better safe then sorry…
---