---
RORAIMA Instant Portable Outdoor Cat Tent RMPT001
---
Roraima Outdoor Gear--- Pet series is dedicated to provide a better solution when you camping outside with your pets. Bring your pets when camping outside is a great pleasure. Our Cat instant outdoor Tent/Habitat offers extra space for your kitty, it can
---
Roraima Outdoor Gear--- Pet series is dedicated to provide a better solution when you camping outside with your pets. Bring your pets when camping outside is a great pleasure.
Our Cat instant outdoor Tent/Habitat offers extra space for your kitty, it can be visible, and keep them safety from the stray dogs or potential danger.
Strong Mesh fabric make sure that your kitty won't easily destroy it can also keep bugs, flies or spiders away from your pets.

Tips for installation and disassemble:

If you are having trouble opening your tent please ensure the fabric that secures your tent to the poles and opening mechanism is not covering the joints on the tent poles.

If the fabric covers the joints it will prevent the tent from opening because it will not allow for the joints to fully extend!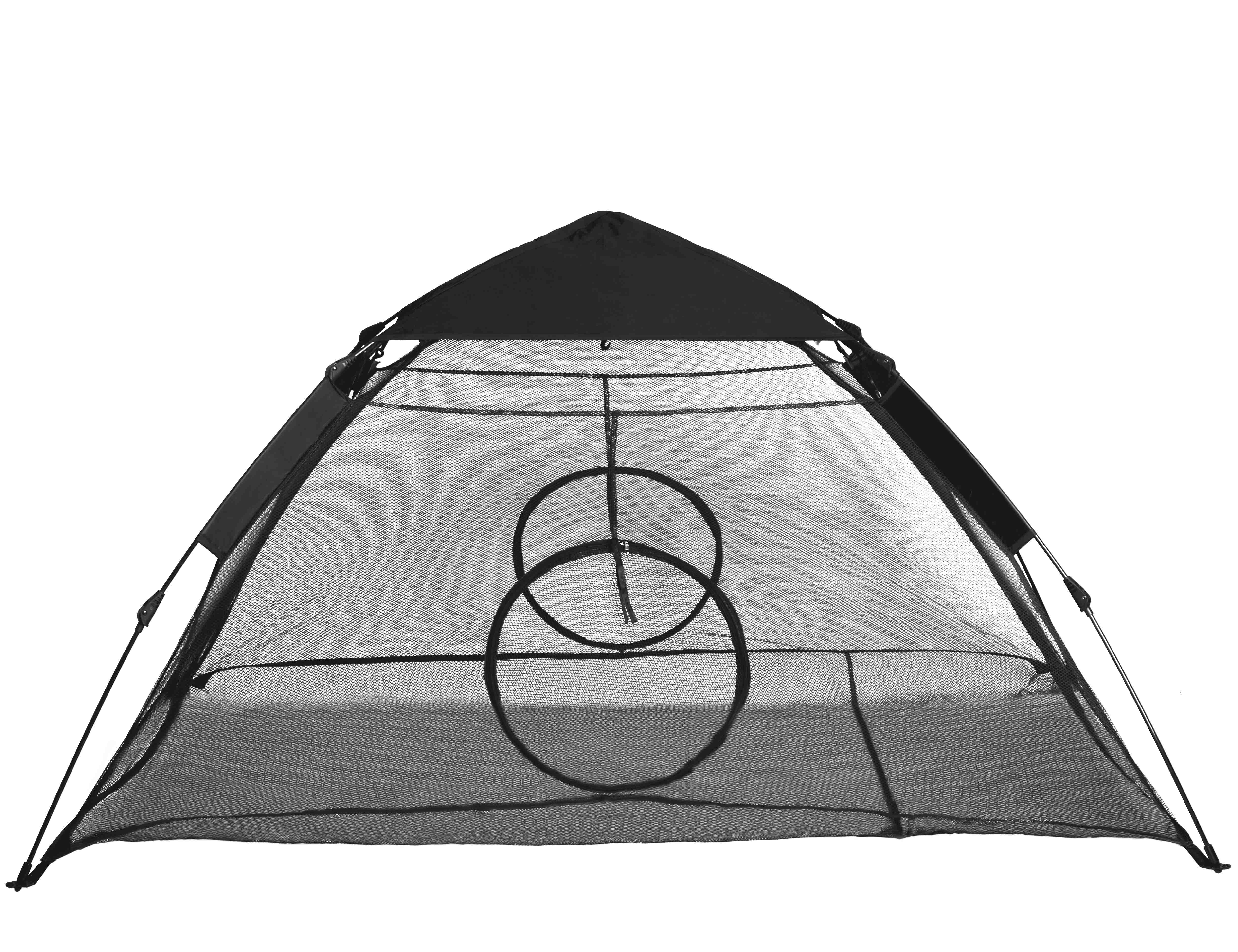 Instant outdoor use tent for indoor cats easy to setup within seconds, with size 75" L X 60"W X 36"H,30 square feet space, large enough space for two or more cats, and your kitty's toys, litter box,blanket etc. This is designed for outdoor use, such as on yard, on your deck or balcony, mainly for your indoor cats to play outside but it can still be indoor use to restrict your kitty jump all around, to keep them safe.

Air ventilation tent for cat and visible mesh fabric make your cats closer to the nature. For the cats who love the grass and nature, this will be an ultimate tent. For the indoor cats which can keep them safe and sound when camping outdoor. For those cats may sensitive to the grass, it is better to bring a blanket under the tent. This mesh tent keeps the flies or spider disturbing your kitty in the outside.

Extra Rain fly not only provide basic protection for the small rains, but also provide sun shade for your kitty in the open outdoor or patio. It can be removed easily if you want to monitor any movement of your pet inside.Extra zipper hole make your kitty fun to get in and out,when connecting with tunnels.

Handy carry bag is provided, so you wouldn't worry about when to travel, you can easily bring the habitat without hesitate. Enjoy your camping time with your lovely pet. Easy access to your cars also.

Limited warranty for only 1 year,If you have any concerns on how to setup, pls contact our custom service team for any help that you need.
---
---
Q:Is the mesh strong enough for a cat with all of her claws if she were to climb it?
<span style="font-family:Ama