---
Camping with dog
Camping with your dog has to be one of the very best experiences to share with your four-legged friend. All that beautiful space outdoors to explore, sniff, run around in, mark out some territory. And the dog is sure to have fun too! Solo campers get some great company and a night watchman to keep things safe, while families will have an almost inexhaustible playmate for the kids. A dog's joy at being let loose to play in a field is unparalleled, with exciting, places to discover and a chance to run themselves ragged.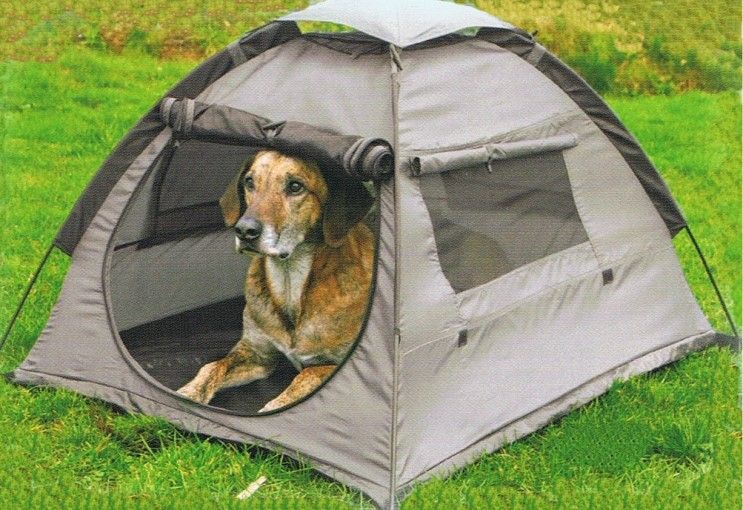 If you're about to go camping or glamping with your dog for the first time, it's good to be properly prepared. It goes without saying that your dog needs to be healthy (vaccinated), socialised (good with other people and other pooches) and very obedient, and mustbe cleaned up after. The majority of campsites that do allow dogs ask that they be kept on leads at all times, especially those on farms with livestock. It's important to keep to any such rules, as one misbehaving pup could bring an end to camping with dogs at that particular campsite. It's also a good idea to gen up on any dog restrictions in the area; many beaches ban dogs on certain sections at the height of summer, for example, so you'll want to be clued up on exactly where you can go together.
Another challenge is the sleeping arrangement, particularly if your dog has enjoyed a wonderful walk but now has a muddy-brown coat instead of the usual Snowy-white. So, along with a stash of poop-bags, remember to bring plenty of towels and water to give your dog a clean up before they're allowed anywhere near the tent.
Ideally, you'll have a tent with a large porch or a separate compartment to sleep Fido (along with an adequate means of keeping him or her securely in the tent at night), but if you only have a small tent, it's a good idea to invest in a dog tent to take to the campsite. This will keep the inner sanctum of your tent fur- and mud-free without leaving your dog out in the cold.
Some campsites are so dog friendly that they even offer dog-walking areas or dog runs so you can exercise your pet away from the other campers. But the best present you can give your four-legged companion is a wonderful long walk in the beautiful surroundings that any Cool Campsite has to offer.
---